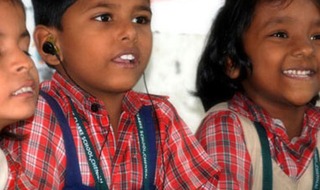 Founded in 1970 by Founder Director, Dr. Miss P. Leelavathy and Founder Secretary, the late Dr. S.K. Nagarajan. The Clarke School for the Deaf, Chennai, had a humble beginning with just three students, an old hearing aid and some makeshift furniture in the residence of the Director.

​Over the years, with the help of experts in community development and rehabilitation services, the institution has grown from just three students to 130 students with varying disabilities, 20 teaching and 10 non-teaching staff and is on the international map with a reputation for quality services.

​One of the finest special schools in India, The Clarke School for the Deaf, the Intellectually Challenged, Deaf blind and Multihandicapped is one of the very few schools in the country to usher in a new era of educational, pre-vocational, vocational and cultural rehabilitation of children with disabilities.

​The Clarke School owes its success story to the dedication and determination of the founders, the able assistance of a team of eminent personnel from diverse backgrounds and the staff who have stood against all odds to develop the school to greater heights.



Our Values



The Clarke School admits students without any nationality, caste or creed bias


Admission is also given without any bias on the economic status of the student


Admission is given to children with various types of disabilities


We advocate for equal rights for persons with disabilities


We reiterate that a person with disabilities must be treated on par with his/her able bodied peers and must be allowed to enjoy every benefit